Checkflo App for QuickBooks
This article will go through the steps necessary to connect your QuickBooks account to the Checkflo app. Syncing your Checkflo account with QuickBooks will allow you to import all your check payments from QuickBooks while retaining all the benefits of those creating checks within QuickBooks rather than manually writing checks.
These benefits include:
When creating checks in QuickBooks, you do not have to manually enter the check later when it is time to reconcile your checking account with the bank statement.
Your QuickBooks file is always up-to-date with the most recent expenses you have paid.
You can print your checks directly from QuickBooks so that you don't have to manually write them.
By connecting Checkflo to QuickBooks you're enhancing those benefits mentioned above!  The printing and mailing your checks will be streamlined which will help you save time and money by providing a one-stop source for check processing, printing and mailing. This leads to improved operational efficiencies and reduced administrative costs, all with less effort and paperwork. Start leveraging our advanced printing capabilities to help your organization quickly boost productivity and discover cost savings.
Before starting you need to have signed up for QuickBooks Online
Video Tutorial
Step 1:
Visit www.checkflo.com then click on sign up on the top right and you will see this screen below. Click on the "Connect to QuickBooks" option on the top.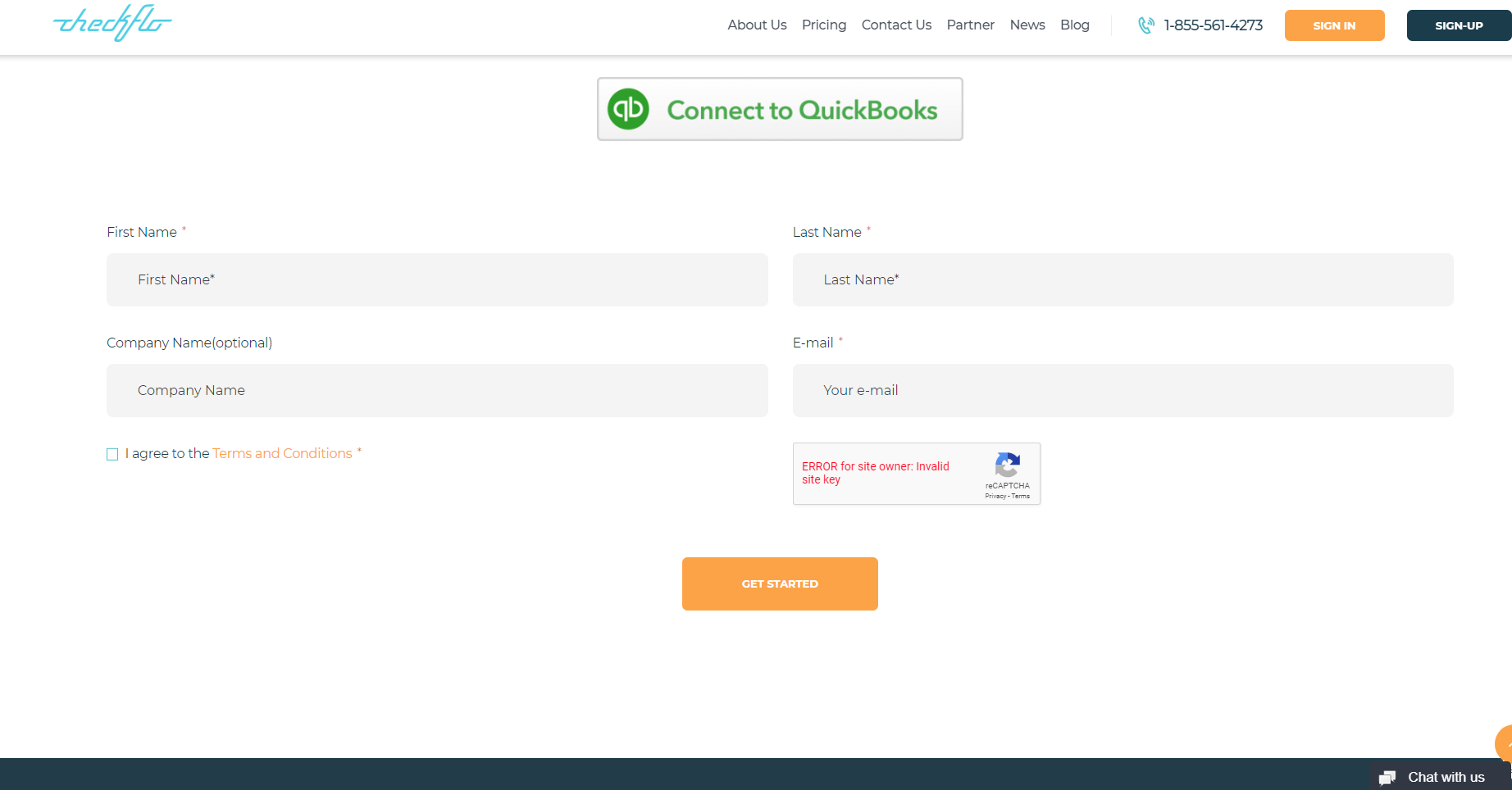 Step 2:
Authorize QuickBooks to securely share your data with Checkflo in order to use the service. No information provided will ever be shared.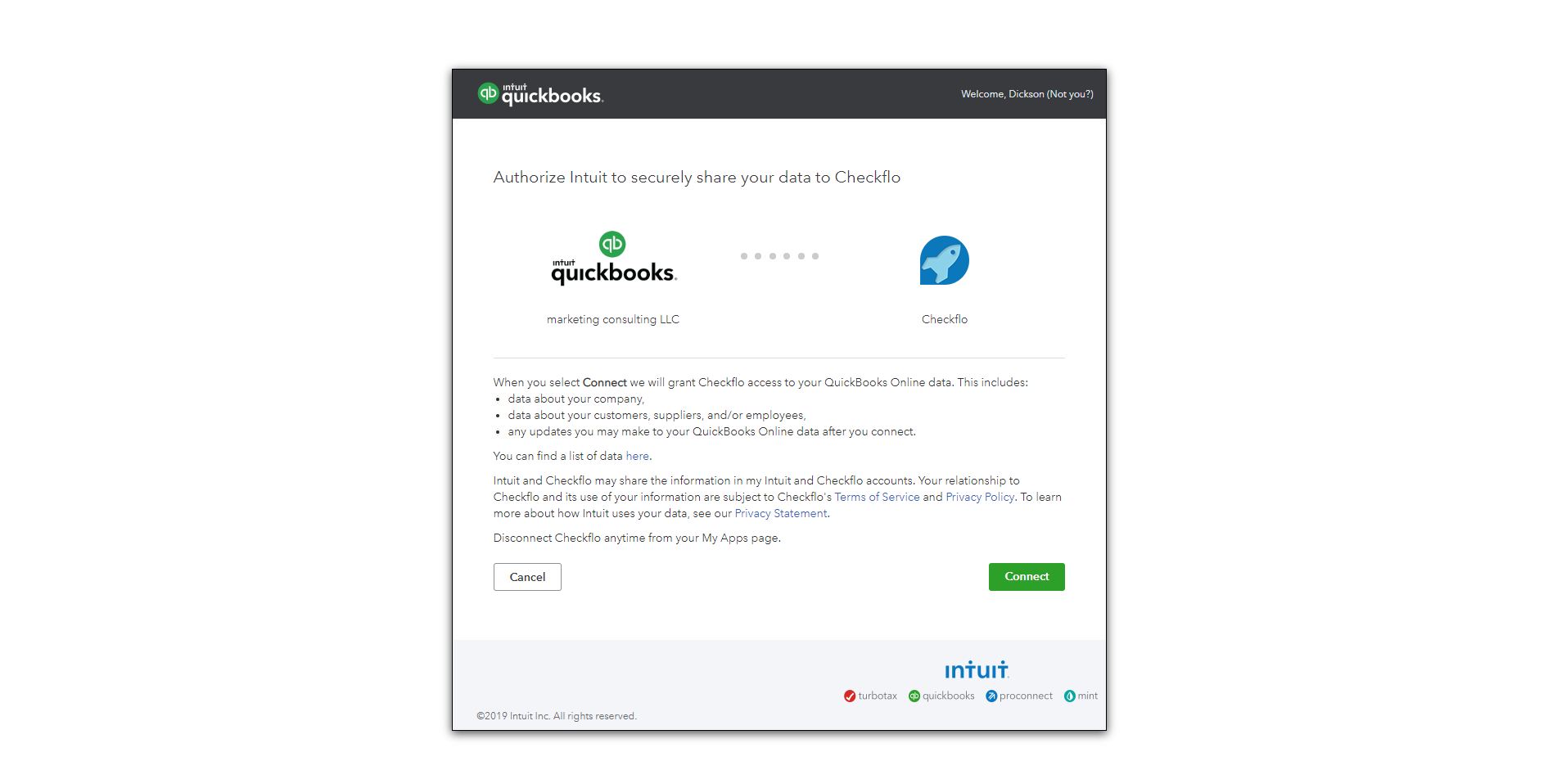 Step 3:
Fill in the necessary information to complete the sign up form for Checkflo's services as seen in the image below and agree to the terms & conditions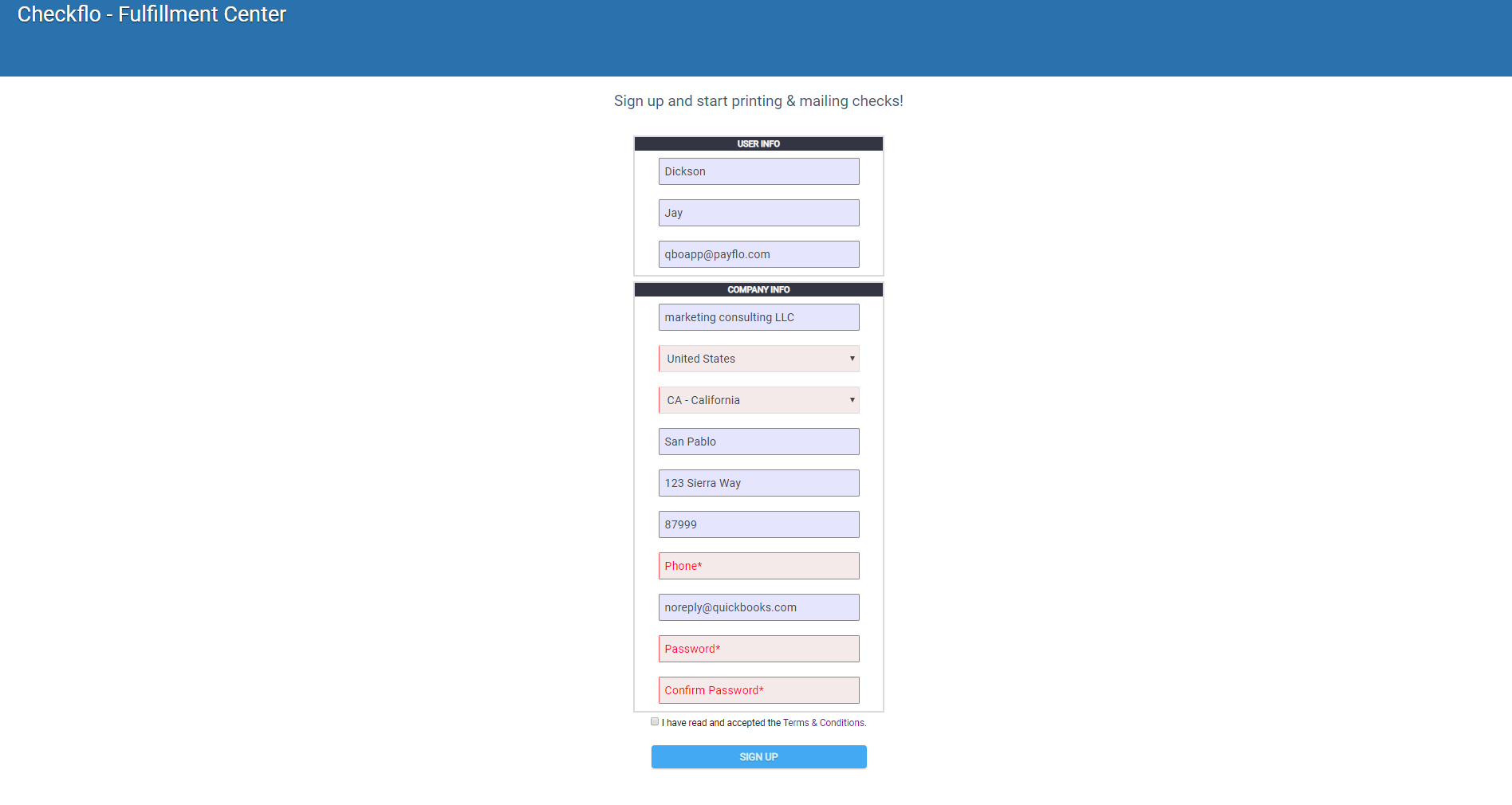 Once this is completed you get this pop up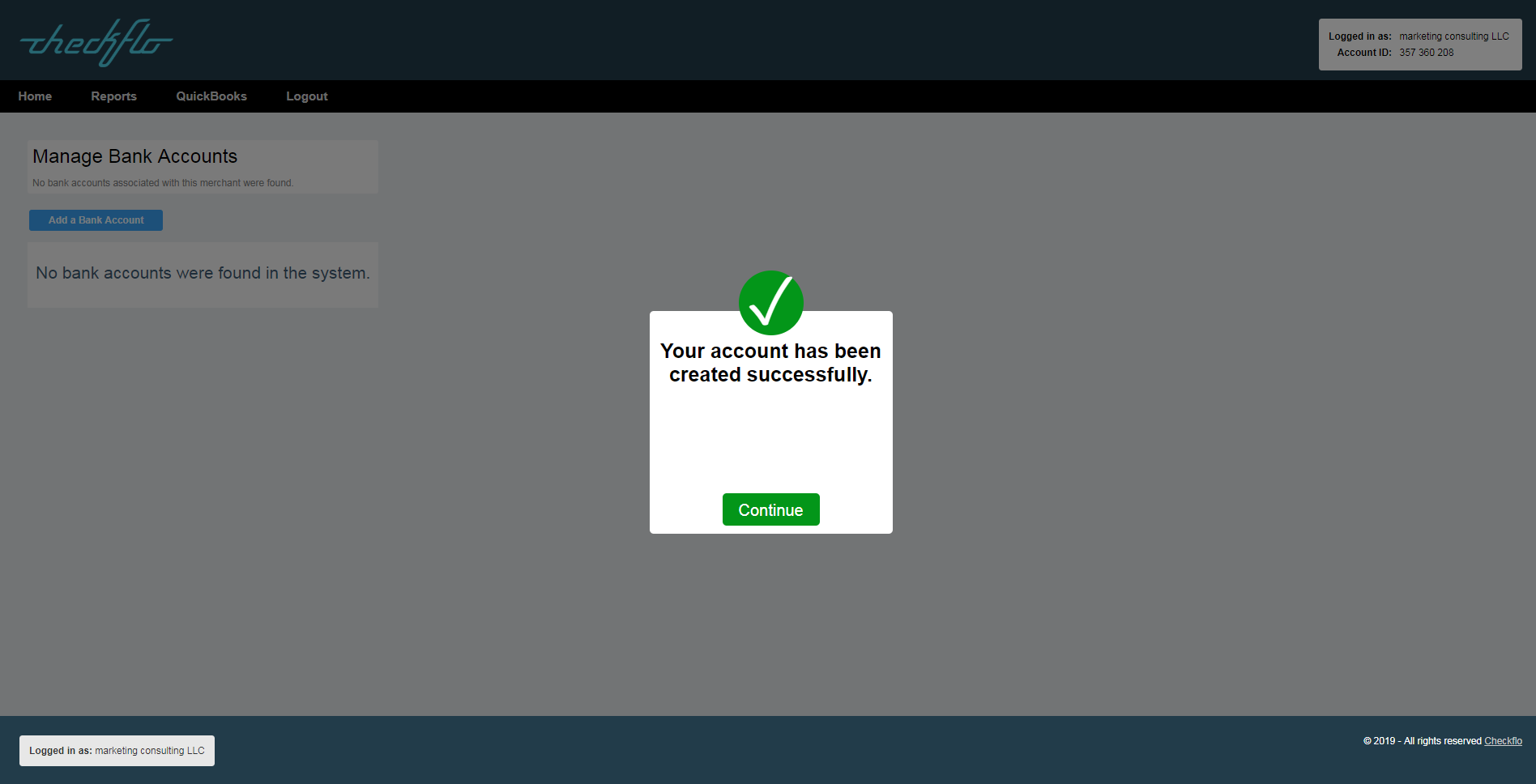 Step 4:
Next you will need to add the company's bank account information including the account holder's name, the bank's name and the bank address that is associated to your QuickBooks account.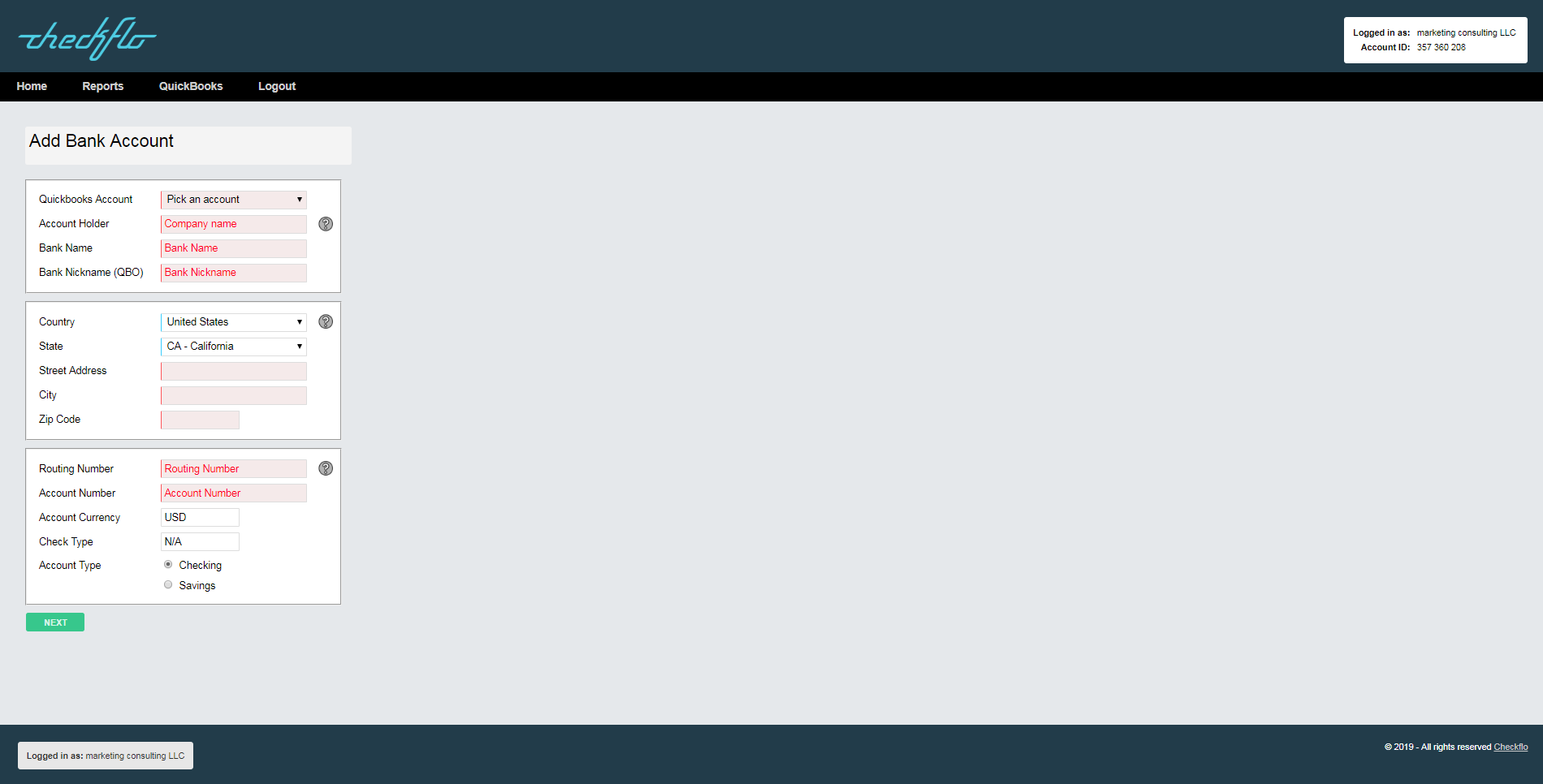 Step 5:
Once the banking information is entered, you will be required to upload an image of your signature that will appear on the check, upload a void check and if preferred your company's logo which can be included in the checks. You can also decide to include your company's address and your bank address on the check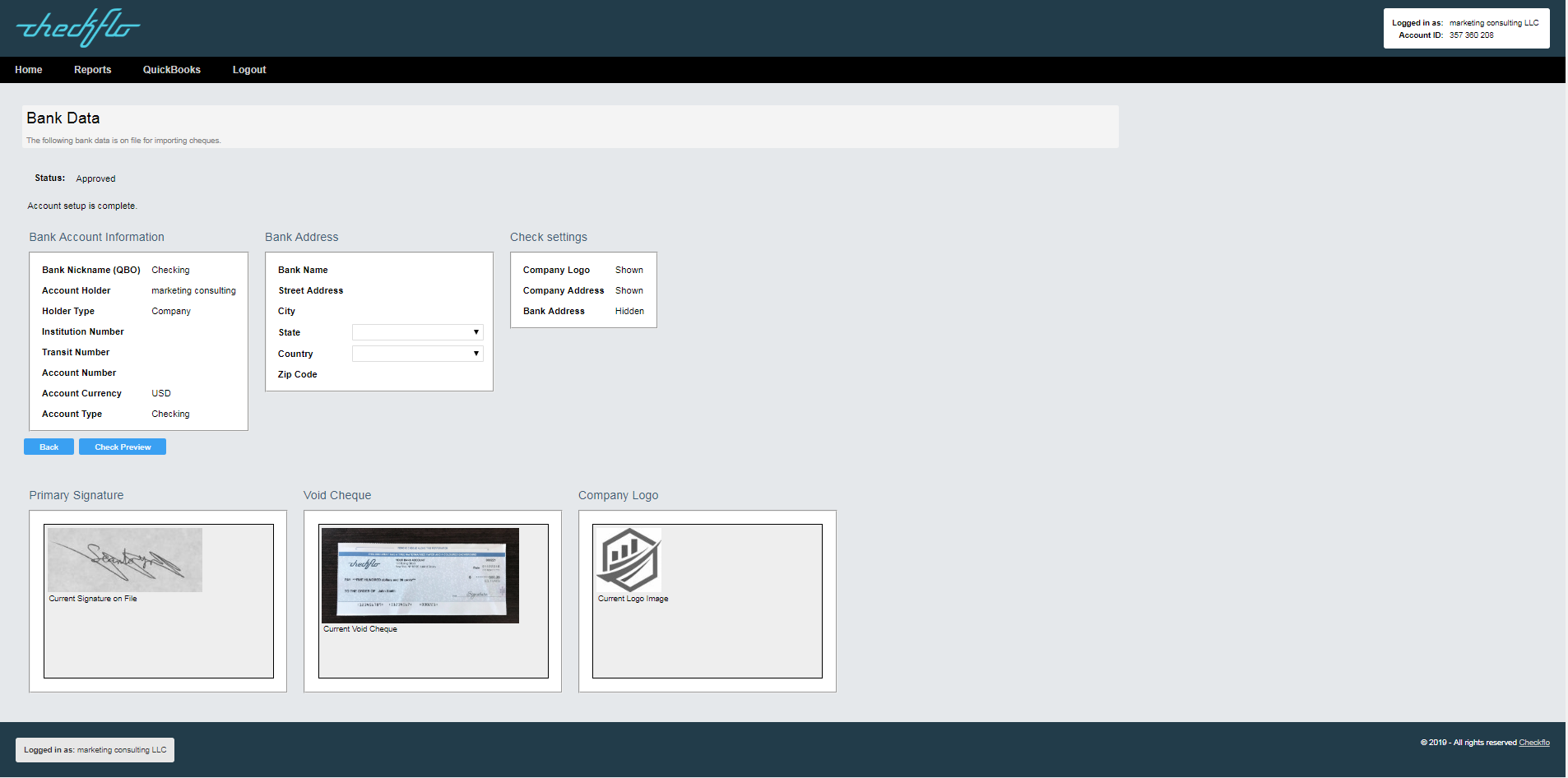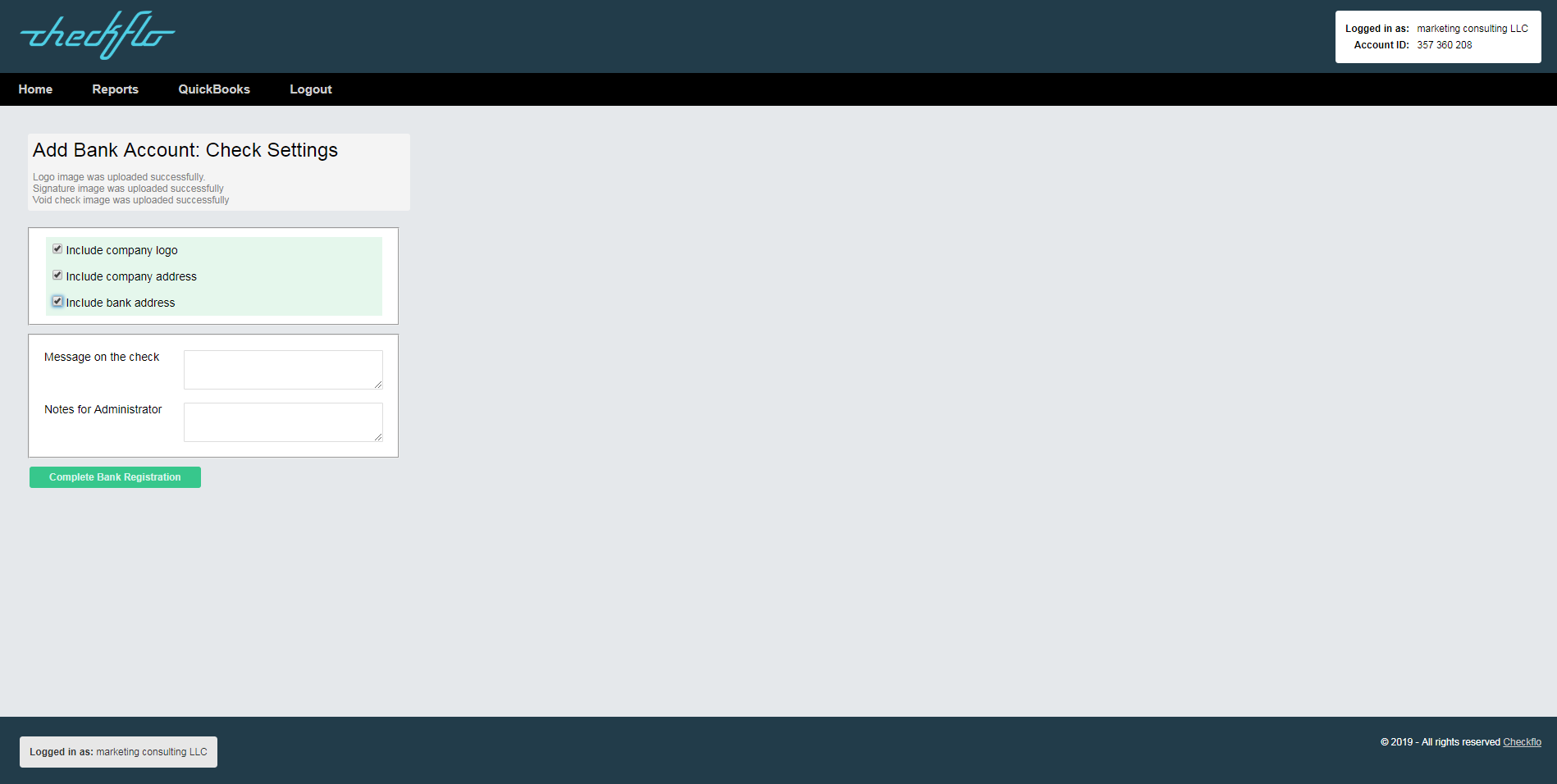 Step 6:
Confirm the information on the dummy check displayed is correct before you activate your account. Once you click activate, we will receive the information you provided, we will review it to make sure it is correct and non fraudulent. Once we complete our review we will notify you by email that your checkflo account is now activated.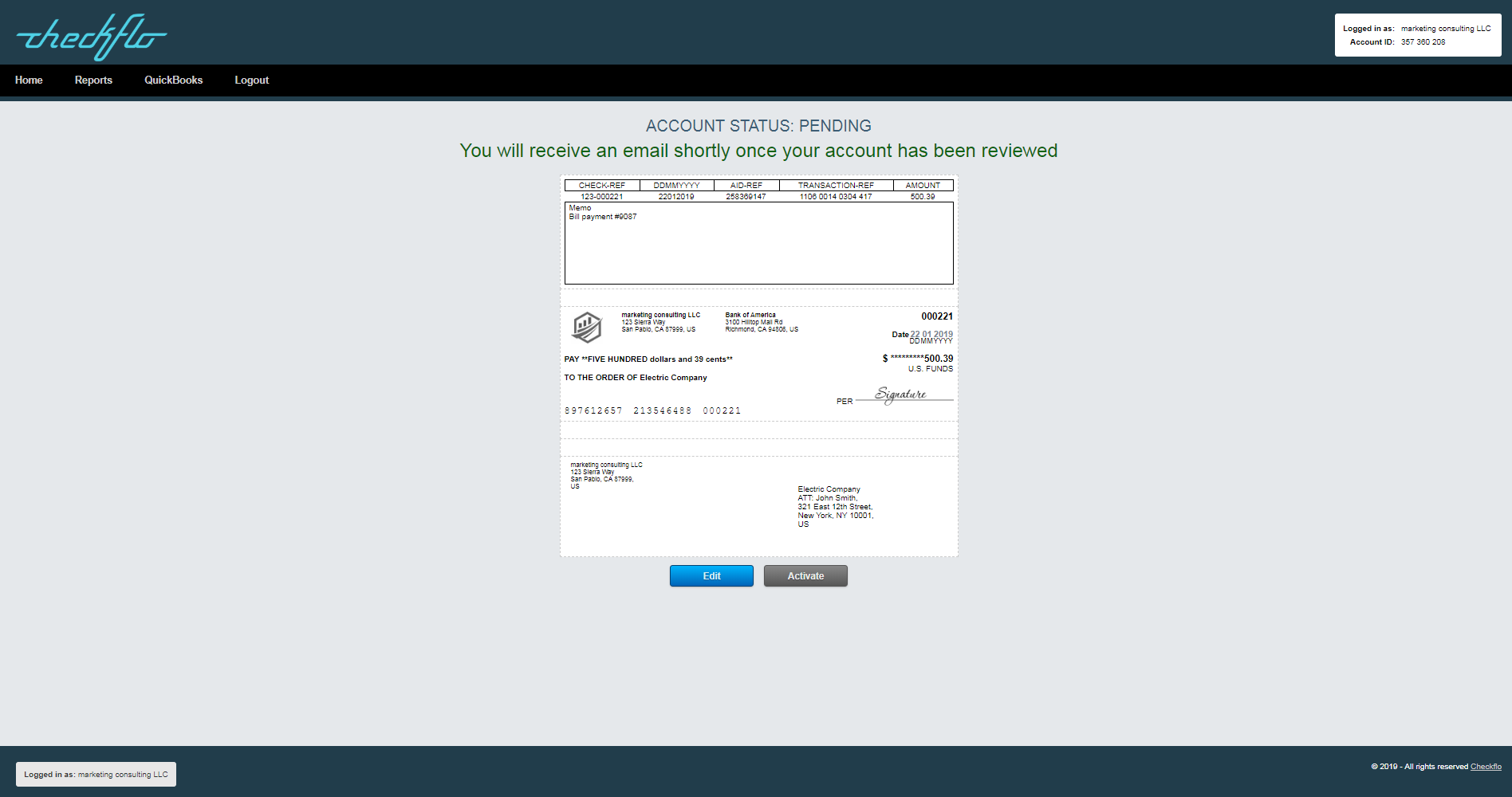 Step 7:
To import your check payments from QuickBooks to Checkflo simply hover over the QuickBooks drop down on the top left, then select import checks.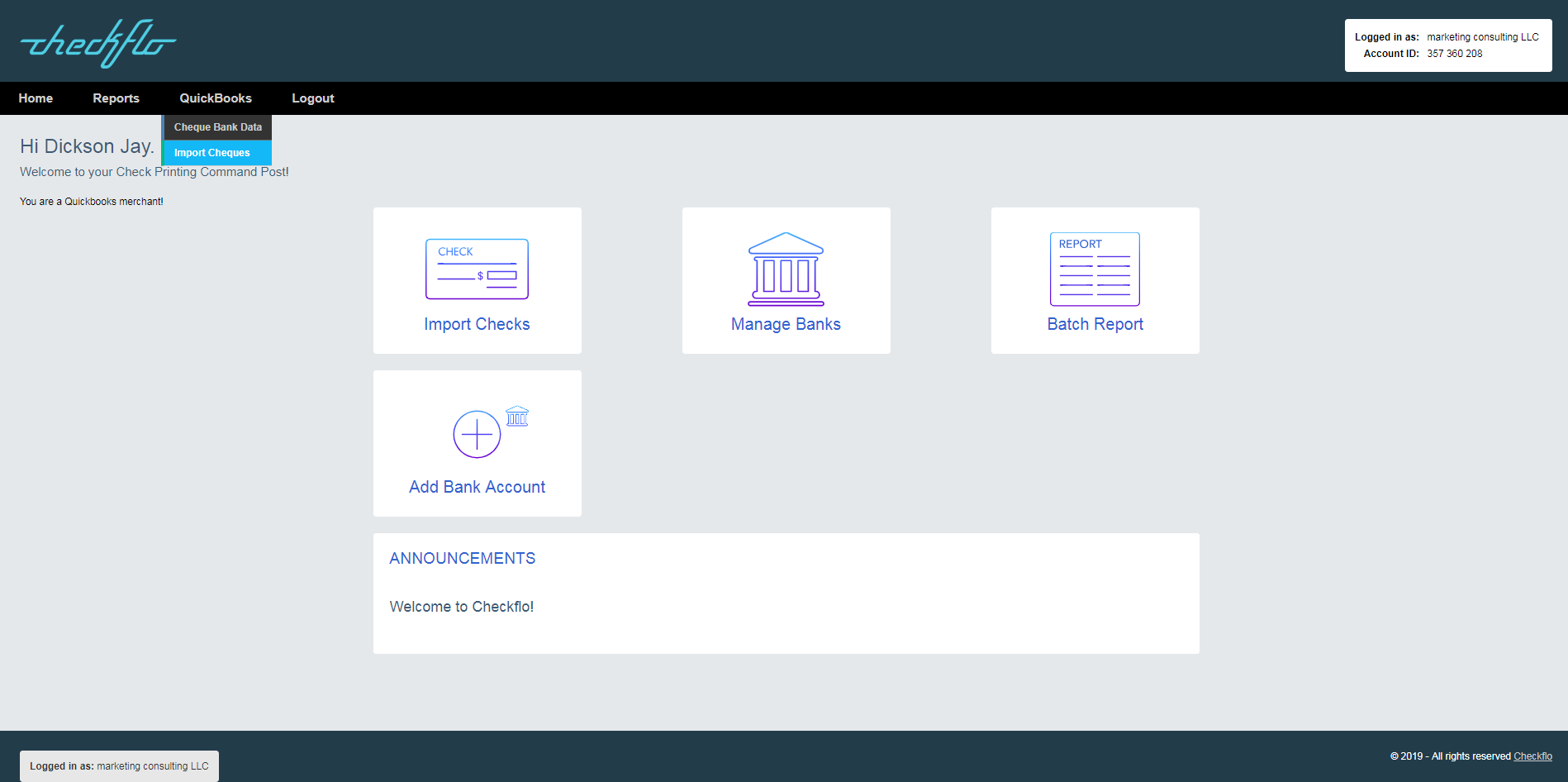 On this page you can pick the date range of the checks you would like to print and the bank account where the payments will be drawn from.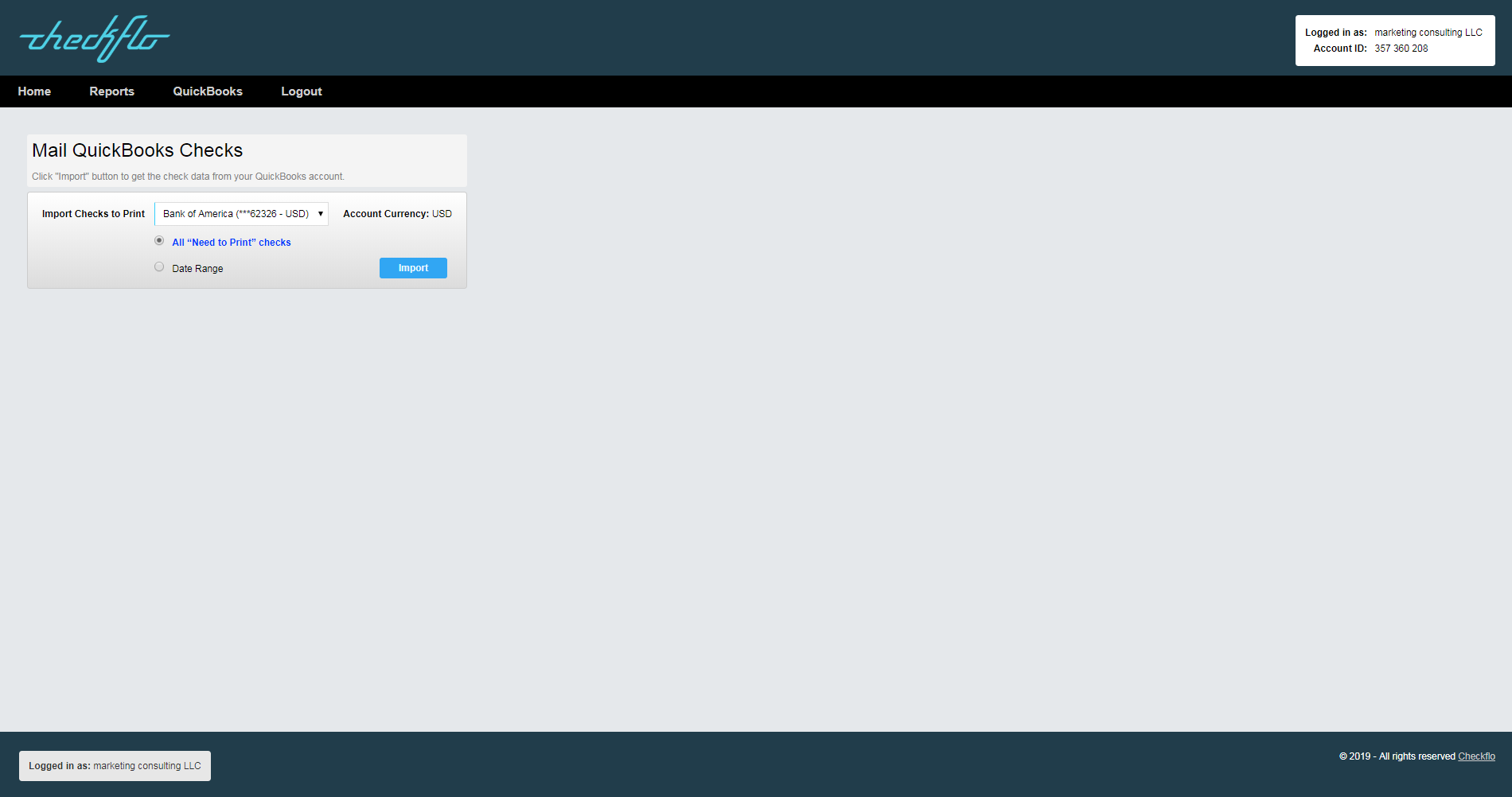 Once the checks are imported from QuickBooks you can select them to be printed. Additionally, you can choose to send checks by USPS or by FedEx.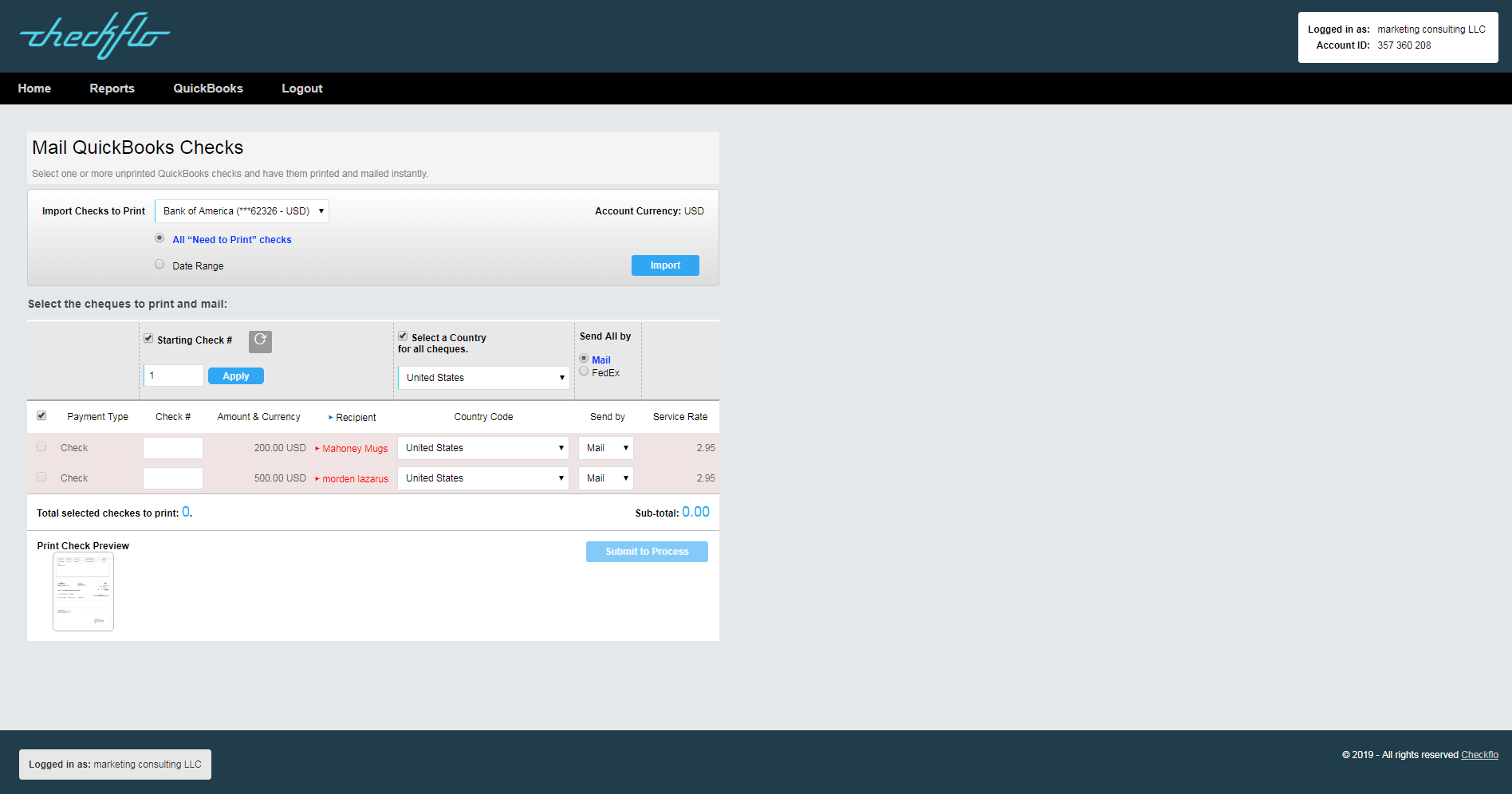 For any question please call us at 1-855-561-4273 or email us at info@checkflo.com