Digital Solutions for Traditional Checks
Create custom check templates, add payment info, and click 'Process'. It's that simple! Send business payments across the U.S. and Canada with real-time tracking and seamless record-keeping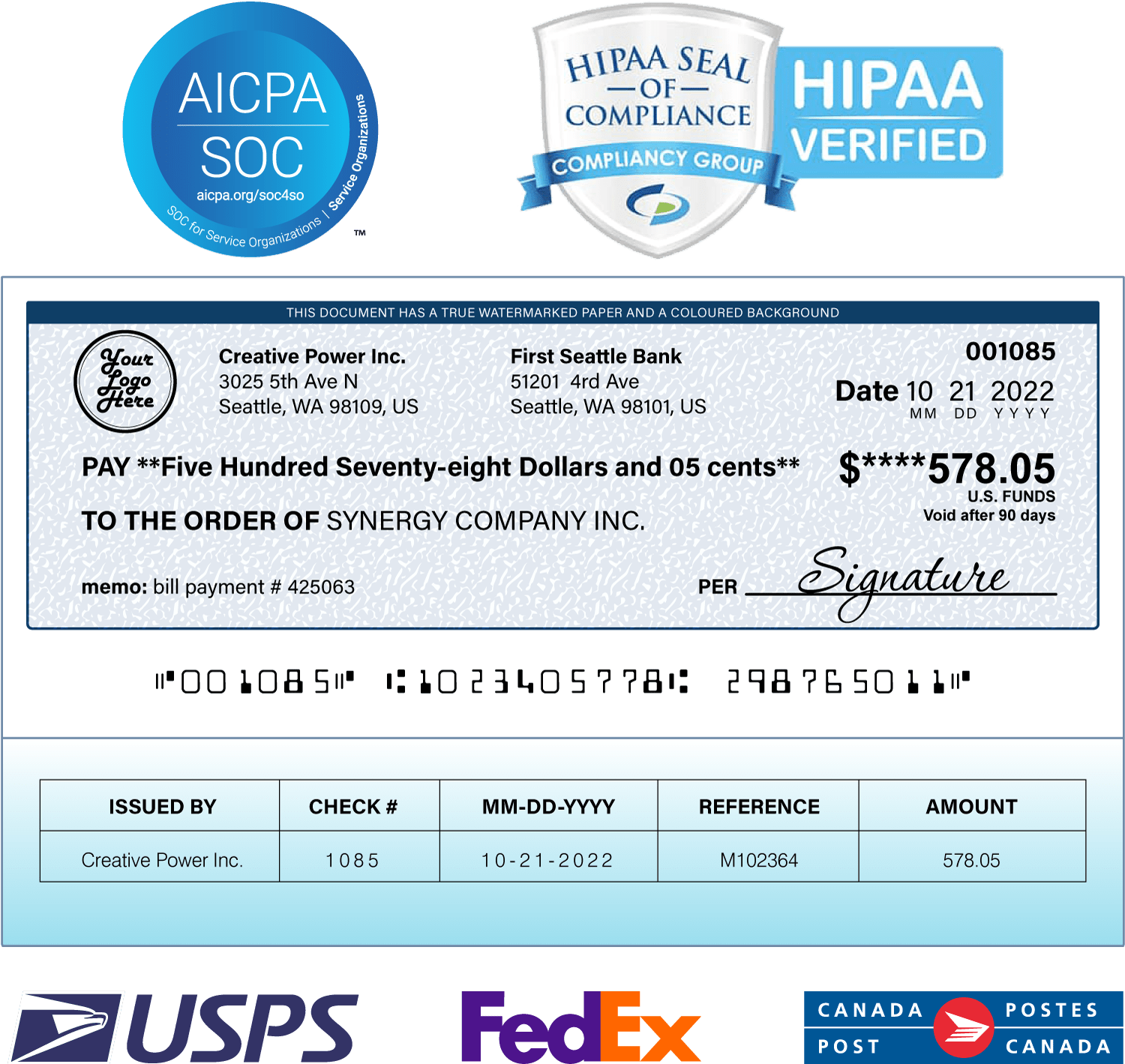 Your One-Click Solution for Secure Check Printing & Mailing
Have your checks printed & dispatched today
Easily upload & sync payment data
Add signing officers to approve payments remotely online
Customize your business checks and check stub
Secure checks with premium MICR and tamper-proof technology
Schedule payments and bundle multiple checks into one shipment
Send documents along with your checks
Choose between First Class Mail and FedEx Overnight delivery
Track deliveries & get advanced digital reporting
Your Data, Your Way: Easy Integrations with Checkflo
Set up an online account for flexible data upload options or connect using your QuickBooks Online account for seamless integration. 
Checkflo offers a convenient way to manage all your check payments across the US and Canada. By creating a business account, you can write, sign, and approve checks, as well as attach relevant documents. Use our online check writer to customize your checks and add important payment and remittance information. For bulk payments, you have the option to upload your payment data using a CSV file or integrate via REST API. We take care of the MICR check printing and mailing, ensuring that your checks reach your payees without any extra effort on your part. 
For QuickBooks Online users, Checkflo offers a specialized app designed to assist in managing their paper checks payments more efficiently. This app provides a two-way sync with QuickBooks Online, helping you avoid double data entry, maintain accurate records, and track check payments in real time. Available directly from the Intuit App Store, QuickBooks Online users can easily incorporate the Checkflo App into their financial workflows for an enhanced accounting experience.
Why Choose Checkflo? The Competitive Advantage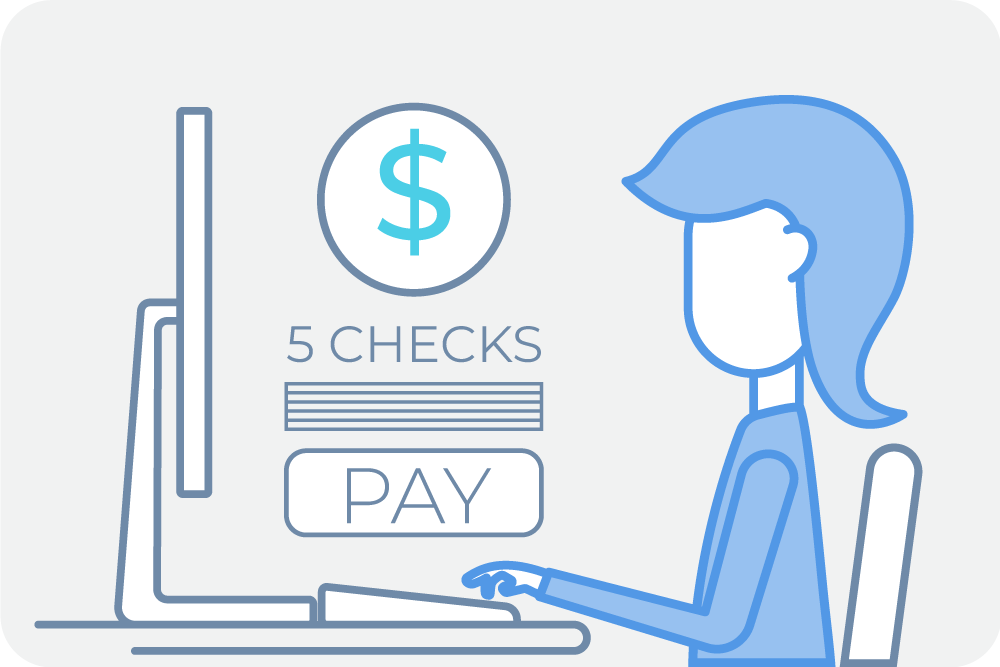 Pay-As-You-Go Pricing
Checkflo offers flexible all-inclusive pricing (which covers check stock, postage, and same-day check printing & mailing) with discounts for bulk payments, making it a cost-effective solution for businesses of all sizes. Pay only a simple flat service fee, with no need to prefund accounts or deal with monthly subscriptions or transaction fees.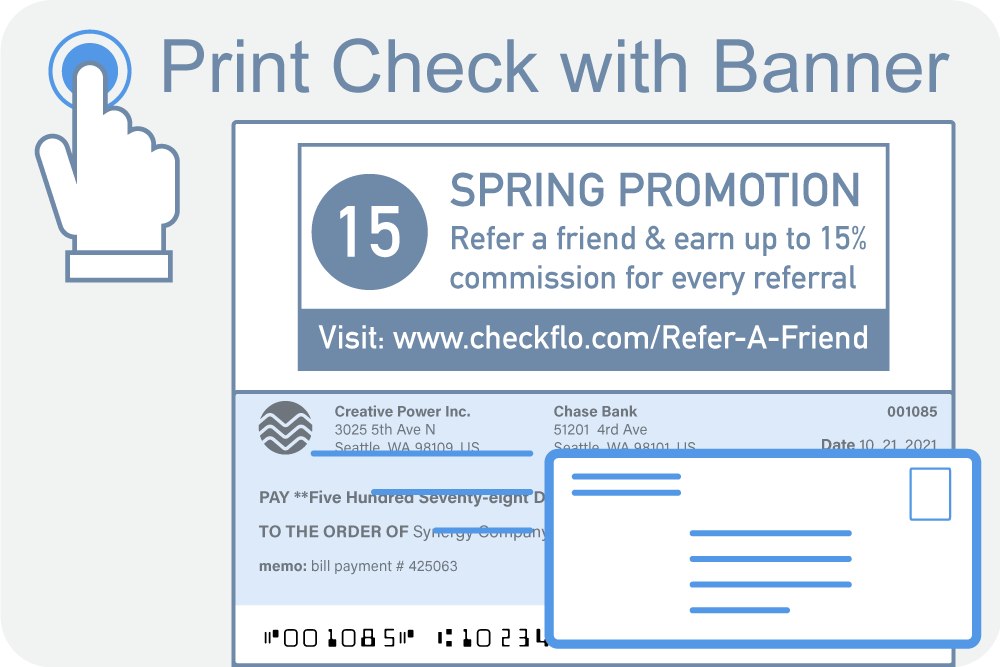 Same Day Check Printing & Mailing
Easily create custom checks online and benefit from same-day dispatch for fast payment delivery in the US and Canada. Our streamlined and secure process caters to vendors, employees, customers , or any other business payments, ensuring timely and reliable service across North America.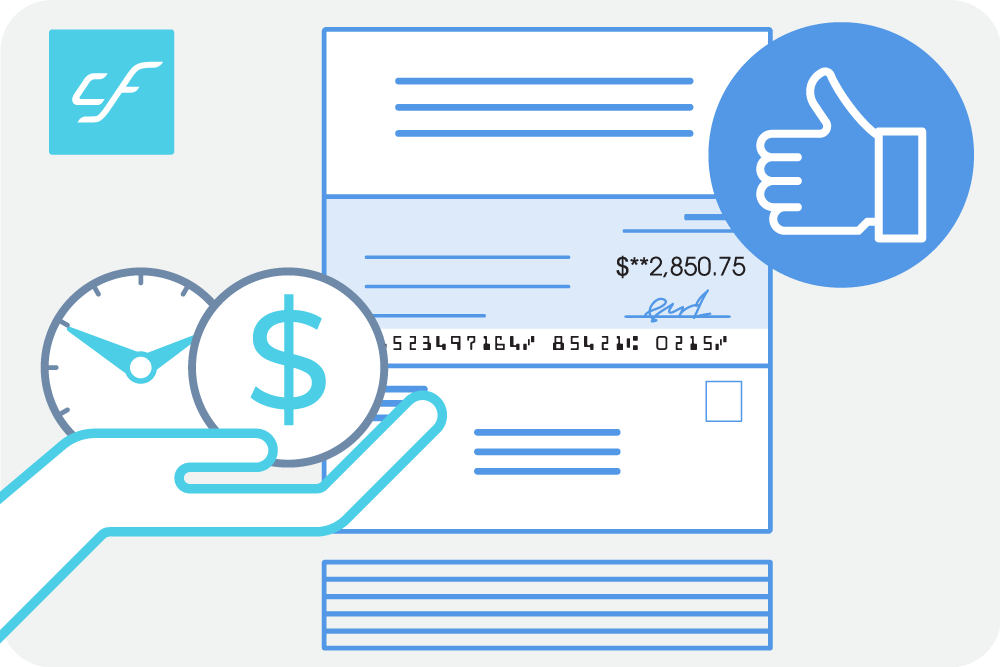 Advanced Reporting & Unmatched Support
Obtain detailed insights into your check payments and delivery statuses with our comprehensive reporting and tracking features. Rely on our outstanding customer support team, always ready to assist you with any inquiries or requirements, to ensure a seamless Checkflo experience.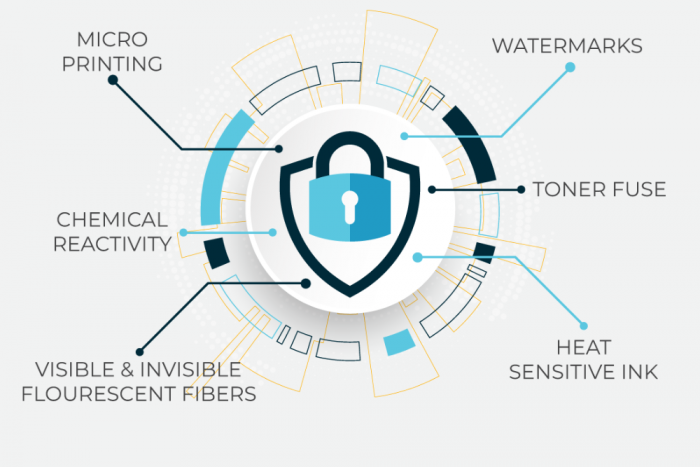 Secure & Compliant Check Payments
Safeguard your financial data with Checkflo's robust security measures, featuring bank-grade encryption, high-security check stock, and adherence to industry standards such as SOC 2 Type 2 & HIPAA compliance. Experience peace of mind knowing your sensitive information is protected with Checkflo.
Cut Your Check Processing Costs by Over 50% with Checkflo
Compare the Savings: In-House Check Payment Processing VS Checkflo
In-House
Check Printing & Mailing
Monthly Materials: $500

Monthly Postage: $335

Monthly Labour: $1,280
Checkflo
Check Printing & Mailing
* NO MONTHLY FEE
* $149 per check printed & mailed:
High-security check stock

Original MICR toner

Fast 1-day dispatch

Positive Pay report

Reporting & tracking
*Based on 500 checks a month and a three employee review process
Why Businesses Prefer Using Checkflo for Check Printing and Mailing
Multi-Bank & Company Management
Seamless Payment Data Integration
Enhanced Record Keeping & Reporting
Advanced Check Payment Security
Personalized Custom Checks
MICR Technology for Secure Printing
Remote Management & Payment Approval
Real Users Speak: Customer Reviews & Testimonials for Checkflo
Discover how Checkflo has helped businesses of all sizes streamline their payment processes and enhance their financial management.
Checkflo

-

Web Application

Check Payment Software

Same Day Checks & Documents Print and Mail
Reviews
Overall
Stay Informed
Explore the latest news, tips, and best practices in check payment management and financial insights through our blog.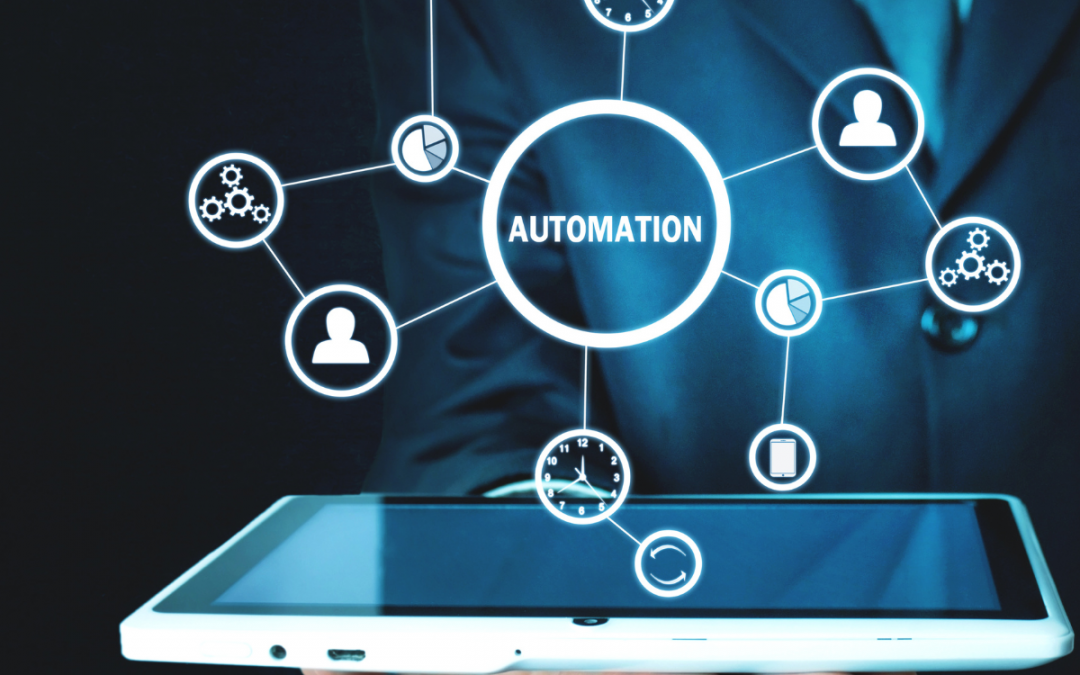 Are you spending your hours on tasks that truly match the value of your role? The article includes a practical Task Valuation Chart to help you reassess and prioritize your daily activities, ensuring you focus on what truly contributes to your success.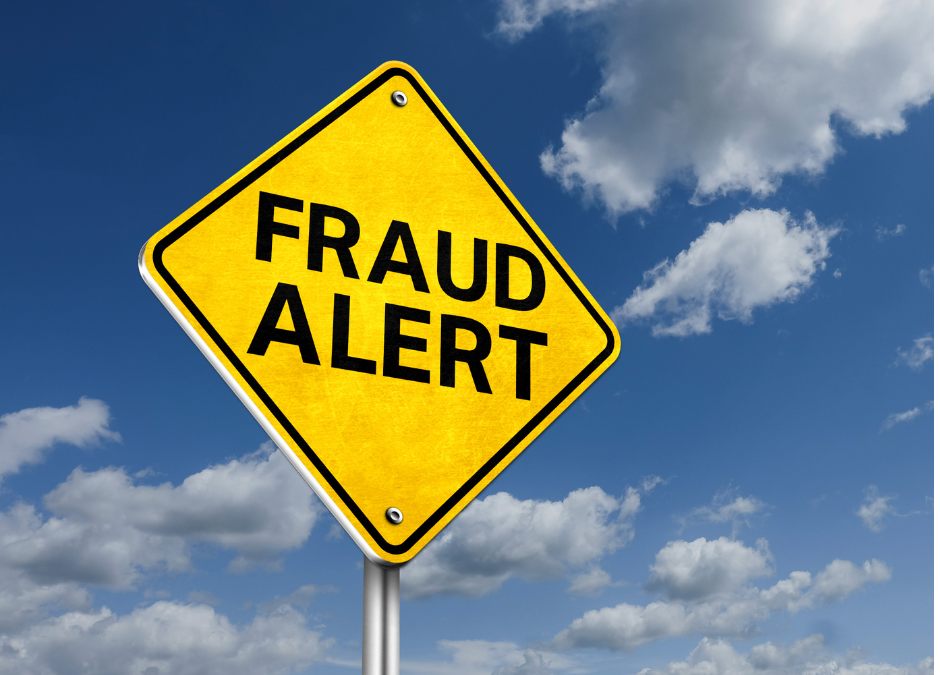 Combat the rising threats of check washing and fraud with fortified measures. Discover how Checkflo's blend of world-class MICR toner and advanced security features ensures your business checks remain uncompromised. Dive in to secure every transaction.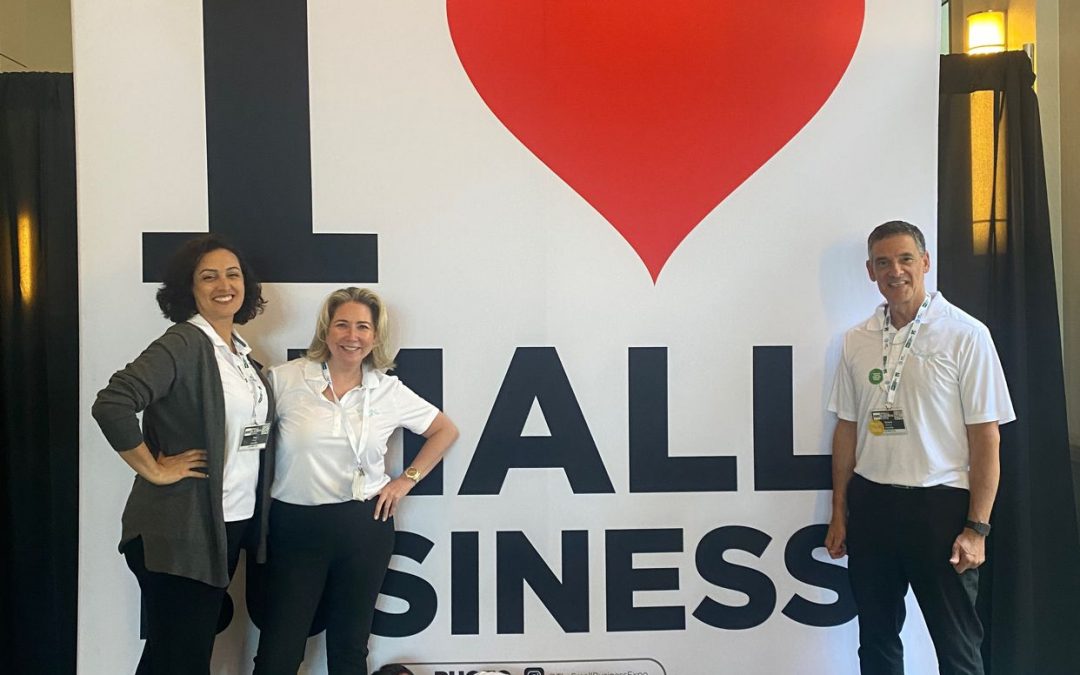 Discover how Checkflo is bridging the gap in small business payments. Get insights on why online check printing and mailing is a great solution for vendor payments.
Take the next step
Get your first five checks for free!
No monthly fee or no credit card required.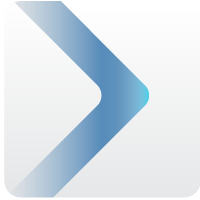 Need help getting started?
Contact us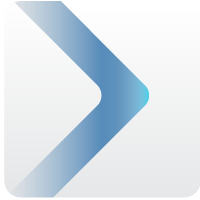 Work with a trusted partner
Contact representative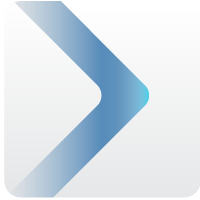 Continue browsing
See all services