Is Checkflo a good fit for you?
You're the one vendors/suppliers and customers depend on to receive payments. Nobody works harder in your business than you do, so how about an accounts payable software that can keep up?
If you're honest with yourself, you'll likely admit that your current check writing process is incredibly time-consuming each week. Writing those payroll checks, customer refunds, vendor checks and tax payments by hand is time spent inefficiently.
There is an easier way to write and mail checks
It's now possible, with the click of a button, to write a check, stuff it inside an envelope and mail it to you. The tedious hours of reconciling the books and handwriting checks would disappear. Imagine, there would be no more risk of losing track of a check payment or your records of previously printed checks. Your checks would look amazing and professional!
Checkflo allows you to send out checks anytime, anywhere without the hassle associated with paper checks. No more time wasted at the post office, misplacing stamps, or running low check stock. As long as you have Wi-Fi, you'll have the power to pay!
Think about how more efficient you would be at running your business with more time back in your pocket. We'd be glad to help!
Easy upload of payment data, using a CSV file, API, or App for QuickBooks Online.
Secure Payment Approval System.
Mail checks with one click.
Can be set up with multiple bank accounts.
Your first 5 checks are on us!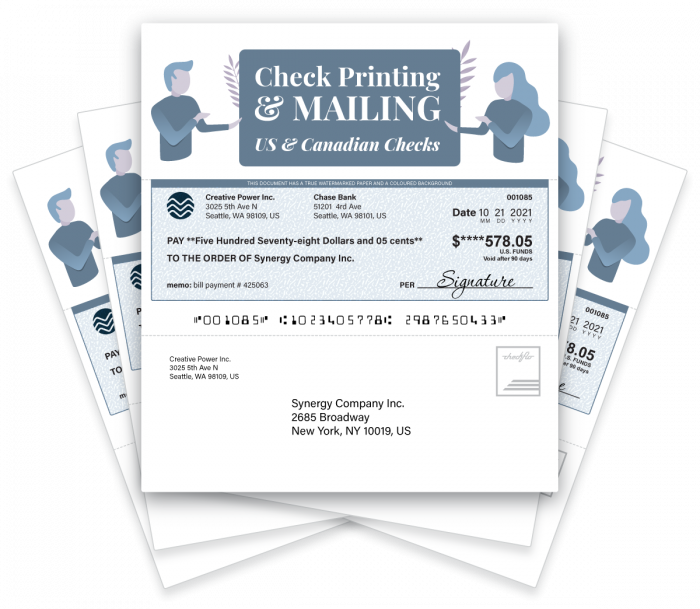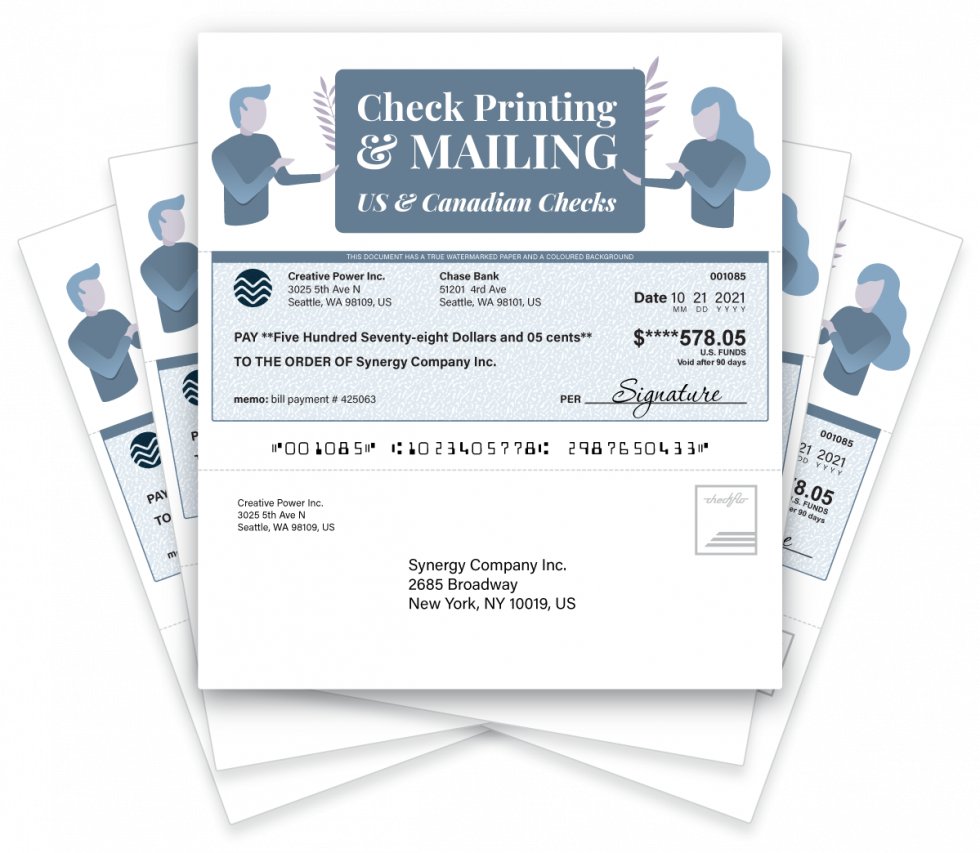 Average savings
is 16 hours a month
& $500 a check Checkflo an easy to use, online check printing & mailing fulfillment services used by many businesses throughout the US. Checkflo customers are saving an average of 16 hours a month and $5.00 on every check mailed (the costs of mailing your own checks really do add up).
Managing company checks can involve juggling a variety of tools and platforms, leaving lots of room for error! With Checkflo, the process of issuing, printing and mailing checks is entirely automated when integrated with QuickBooks online. Checkflo syncs to existing invoices and contact information, which means there'a no risk of data loss!

Installing the Checkflo App
Visit our QuickBooks app store page, then click on "Get App Now" to authorize your QuickBooks account to integrate with the Checkflo app. You will be required to complete the sign up form & to verify your bank account. Once account your verification is completed, you can instantly print & send checks to your recipients.
Don't want to use QuickBooks?
Checkflo can offer other solutions for your business.
Contact us!
Sending Checks from QuickBooks
You can create a check transaction directly from QuickBooks & mark it as "Print Later" to alert our system to import those checks to get processed, printed & mailed.
If you get stuck or need help at any point, our quick-to-respond support is just an email, chat or phone call away. We're pretty passionate about this slick little system and want to make sure you are too.
Ready to get started?
No monthly fee; no credit card required.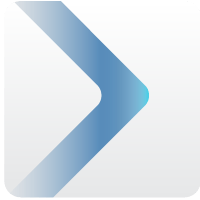 Printing checks shouldn't be complicated, but banks want you to think it is. Checkflo's purpose is to ease the pain and barriers of check printing for businesses.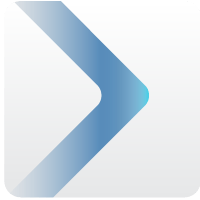 Think about how many better things you could be doing with almost a half weeks' worth of business time back in your pocket. We'd be glad to help!